Four Renovation Tips for a Fabulous Foyer
The foyer is the first thing that guests and family members living in the place see upon entering the house. Keeping it in order and well-designed speaks volumes as to how the homeowner treats their place of retreat and leisure. Aside from that, it can also increase the chances of the house being sold for a higher price as it instantly establishes the first impression for the buyer.
If a foyer is part of the whole makeup of the home, here are some tips to maximize it and design it to the hilt:
Quit the carpet.
When sprucing up the foyer, the one thing people do is purchase the most intricately designed carpet to place on the pathway. But for people with senior citizen aged residents or active little children, carpets are what emergency disasters are made of. Aside from that, they are a nightmare to maintain cleaning wise and can be a bed for bed bugs that can spread around the house.
Instead, opt for a more long term design by changing the flooring. It may be more expensive on the onset but it pays off in the end especially if the flooring is low maintenance. Hardwood floors are great as its look is classic and can last for generations to come. Stone floors are also durable and come in many options such as lime, granite, and marble.
Brighten it up with touches of nature.
Plants are always a good idea as these instantly make a space look livable and improve the air inside the home. You can choose big pots and tall plants for bigger foyers while smaller potted plants placed on top of a long table can make a space more luxurious. The secret of hotels and expensive condos when it comes to plants is they always choose the same kind of flowers, same amount, same colours and height, and always a uniform vase or glasses to place them in. Doing so makes the foyer look more put together and modern.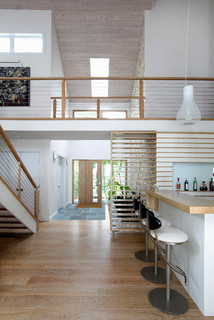 Another way to brighten it up with natural elements is with fruits. Place tall clear vases and place several lemons or lime in addition to some plants for an amazing-looking foyer.
Make the foyer functional.
Aside from being eye candy, foyers can be functional, too. For smaller spaces, adding in a full length cabinet behind a door for coats or shoes or an open shelf is a smart way for saving more area and at the same time, adding in details that make the foyer more beautiful such as a coffee table and hardbound books.
The book binding instantly provides the much need colours for the space without adding in busy and unnecessary elements.
Paint it neutral.
All those elements only look against one thing: perfectly neutral walls! Colors such as ivory white or greige (combination of gray and beige) provides a good backdrop for a fabulously designed foyer that works for any home.
Planning to include your foyer in your renovation South East Brisbane project? Contact 4sk Constructions and Renovations.