When it comes to renovating the home, the financials always come into play. After all, money is always needed to purchase materials, hire labor, and generally make the whole project moving. But although having a budget is important and sticking to it even more so, it does not mean that those who do not have a lot of it to invest at a certain time cannot begin improving their home.
Here are some ways to make your home better without the need to hire a contractor or expensive home elements to make it a new and beautiful home:
1. Change the bathroom levers and faucets.
If your bathroom has stainless steel or silver levers for the shower, toilets, and sinks, make it look more dramatic and expensive by switching to brass or copper ones instead. The contrast in colour with your tiles, no matter what design, instantly makes your bathroom look more elegant. There is something about these shades that work well in any setting and they look even better as they age. In fact, most designers opt for burnished ones from vintage stores and flea markets – making them even more inexpensive to begin with. Unless you have plumbing problems, you can easily replace the levers yourself.
Speaking of bathrooms, another way to make it beautiful is by removing the unsightly grout on the tiles. Although there are chemicals available in groceries, the simple practice of mixing baking soda with a little bit of water to make a paste and soaking the grout overnight makes a big difference.
2. Remove the ceiling and paint the exposed areas.
One thing that makes houses look decrepit is the water damage on the ceiling. With a neighborhood carpenter, let it go already! Gut it out and then paint the exposed ones with a solid colour such as charcoal gray for high ceilings or more industrial looking houses. You can always have a ceiling installed once you get the funds and this is a quick way to get rid of unsightly water damage that makes your home look abandoned.
3. Remove the cabinet doors in the pantry or kitchen
Does your kitchen look cramped? The quickest way to solve this is by removing all the old cabinet doors. Exposing the insides of your pantry works two ways: 1) it helps you take stock with what you actually have. What items do you really have in your kitchen? Chances are, the presence of those doors makes you hoard and ignore the clutter and 2) it makes your kitchen look more expansive because of extra perceived space.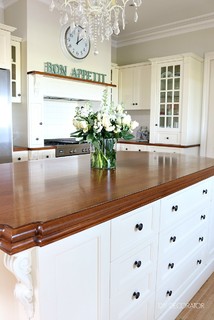 And once you have done inventory, time to sell it or dispose it. No expensive looking home is cluttered.
4. Remove all the small items
Speaking of clutter, here's another way to improve your home without actually even renovating it: remove the small stuff. Those small and miniature chairs that are not comfortable, side tables that don't really serve real purpose, or figurines that you think makes the home look nice are actually just making the home look like a warehouse.
So simplify and eliminate and come home to a beautiful home, without the hefty price tag.
For Capalaba home or Brisbane East home renovation, contact 4sk Constructions and Renvoations.